Thank you for following our live blog of the June 14, 2014 Board of Education  Meeting for Atlanta Public Schools.
View today's agenda here: http://www.boarddocs.com/ga/aps/Board.nsf/Public
Watch the Board of Education meeting here:  https://new.livestream.com/accounts/7427971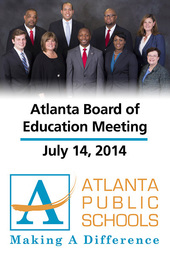 The public can now follow the Committee of the Whole and Legislative meetings via the LIVESTREAM link above.
REFRESH your browser often for updates.
The meeting will begin soon.  Tonight we will update the live blog with highlights from the Committee of the Whole and Legislative Meetings.  We will blog public comment from the community meeting if time permits.
Tonight marks the first meeting for the district's newly selected superintendent, Dr. Meria Carstarphen.
Remarks by BOE Chair, Courtney English
In an effort to make our board meetings efficient we will be instituting some changes in preparation for the board meeting and to the actual flow of the meeting itself, some of those changes have already been implemented.
Pre-Meeting:
As you know, board members will be asked to log on to board docs to read the meeting material prior to the board meeting. In order to ensure efficiency and make the best use of everyone's time, it is absolutely critical that we take the time to read through the board docs information and submit questions about the consent agenda BEFORE the board meeting for answers.
As I shared with you last week, we are working to ensure that there will not be any changes to the agenda after it goes live to the public…all is not perfect but it is our goal including executive session items.
Dr. Carstarphen WILL NOT repeat the synopsis of each individual agenda item at the board meeting. She will instead present the entire consent agenda for approval at once with the understanding that board member concerns/questions have been previously addressed.
During the Meeting:
Under your direction (to his colleagues), based on conversations and deliverables from our board retreat on April 29th. We would like the system to move beyond the last minute work, thus our goal should be to acquire as much information for the board prior to the board meeting, and additionally we would like to ensure a better use of your time by becoming more efficient on how we share this information with you and the public.  Here are some of the changes that will assist in our efficiency.
You will notice that the agenda now has times. By adding a time frame for a particular section of the agenda will assist in keeping us on track.
The entire legislative meeting should last until approximately 7:50 or so.
Old/New Business has been removed from the agenda template.
We would like to encourage board members to discuss the addition of items with the board chair prior to the agenda setting meeting.
You will also note that on the agenda, the executive session will take place after the approval of the consent agenda.  After the executive session the board will resume the COW, report out and adjourn.
There will clearer titles.
All needed materials will be attached to the agenda
During the Legislative meeting, the Superintendent's comments may only be geared toward agenda items and items that will be voted on.
The term CONSENT will replace SUPERINTENDENT REPORT on the Legislative agenda.
Board Norms
Every good board has sets of rules developed for how board members will interact with each other and their board's mission.
These rules or norms will form regardless of whether they are effective for the team. In fact, left to develop on their own, some of the ways of interacting and making progress may actually undermine the team's efforts to succeed.
When board members commit to the highest ideals of excellence in school governance, they will improve substantially the overall operation of their school districts and elevate the role public education plays in developing future citizens.
APS and the Board is currently in a period of significant change for public education in Atlanta, with expectations for student achievement rising, the need for growth and resources increasingly restricted, the work of our school board never has been more challenging-or critical to the success of our students.
In fact, how we govern the district is inextricably linked to school and student performance.
The board developed norms under the old board as referenced in Policy BBBA Board Statement of Values.
During the April 29, 2014 Board/Superintendent Workshop, the board and superintendent began discussions to update the existing board norms.
—-
Public Comment
We have one speaker for committee of the whole meeting.
Speaker:  Welcome Dr. Carstarphen to Atlanta Public Schools.  Over the weekend I received a lot of phone calls from parents and I was a little disturbed to hear that we were looking to restrict public comments.  We look at the organizational chart and we look above the Board of Education and we see the parents of APS and I think it says a lot that we would restrict that input.  On the heels of 50 years of the Civil Rights movement the last thing I want to hear is the word "restrict" as it relates to public comment.  We are not about disenfranchising our community, we are about including the comments of others as we work through this process together.  I would hope that our conversation would be about inclusion, not restriction.  Let us not restrict the voice of the people.
-End of Committee of the Whole Meeting–
-Community Meeting–
6:00pm
PUBLIC COMMENT
Speaker:  It's not about the popularity of the Beltline vs the popularity of the children of Atlanta Public Schools.  This is about what this school system is owed.  Somebody needs to speak for the children.  You all have tried but the community needs to speak up for the children of Atlanta. The state has taken 160 million dollars from APS in austerity cuts and we're talking about $19M?
The second thing I want to talk about is the payment for the transition team.  I appreciate the release of names, but I think you should have paid for the transition out of your budget.  Who pays the cost is the boss.  It's not enough to say we're not going to be affected by who gave the money, I haven't seen anything beyond your assurances that it won't be the fact.  I think in the future we should be very careful about what we take from outside entities.  That's what's gotten APS in trouble over the past few years.
I heard that there is a change underway to change public input at these meetings.  I'm a public official and folks talk bad to me all the time.  You know what I do?  I take it. The folks out here are the public and they are your boss.  It would be wrong to limit public comment.  It would say that we favor efficiency over the public process of civic engagement.
Second speaker asks that inclement weather decisions be made earlier in the school year with a later start time for students to ensure safe transportation to and from school.
Third speaker expresses concern about the lack of specificity in board docs around which textbooks will be purchased for the upcoming school year.
Speaker:  When our cluster groups met with Maria Carstaphen, she asked for a one page write up about our cluster, what we valued, and who we are.
In the Jackson Cluster we value a few key things when it comes to education DIVERSITY, INTEGRATION, ACCOUNTABILITY, ACTION, and EQUITY.  They are all related, and each of those words can have different meanings:
DIVERSITY
In the Jackson Cluster we have diverisity of curriculum, races, cultures, incomes, points of view, learning and teaching styles, charter/traditional. We have it all, and we want it all because that diversity serves the diversity of kids we have in our cluster.
INTEGRATION
We value integration. That means continuity of all our diversity. Our children should experience continuity of culture and educational opportunities from the moment they enter public school through graduation.
ACCOUNTABILITY
Honesty, TRUE transparency, openness, and follow through – we don't like drama or political maneuvers. Tell us about the problems, and tell us how we can work together to fix them. Tell us what you think, and why something is a good idea, and we will do the same. Involve us in the process. We know that we won't always agree, but if we believe you have a good value-based reason for your decision, we can move on and stay focused on kids.
ACTION
Get your hands dirty! Respond when there is a problem. Better yet, try to anticipate problems and mitigate them. Action also means, supporting our principals and teachers, by giving them the support to try new things – to get through the day and think toward the future.
EQUITY
This leads us to equity. You know the equity audit is a place to start, but it is only the tip of the iceberg. There is a deep culture of inequity behind it, and everyone knows it. Good teachers and leaders do their time in the low-performing schools, so they can move to higher performing schools. For all of our schools to be great schools, they need to be places where teachers and leaders want to be. If APS teachers and staff don't want to be at a school why would the community.
Speaker:  I want to officially welcome Dr. Carstarphen to APS.  Additionally, I would like to thank you for the principal we now have at Booker T. Washington High School.  We thank you as a cluster for this choice.  Please do not limit or change the time or number of people who can come and speak at this podium.
Next speaker expresses concern about the agenda item limiting public comment.  Feels that all stakeholders should be able to speak to the board and not limited to what is listed on the agenda.
Speaker:  I want to talk about the equity audit again.  The audit certainly is a beginning.  We need to still look however at the Talented and Gifted programs at schools, number of computers in front of each child…we need to go into our fall strategic planning with the audit in hand.  My children have unfortunately have had the unpleasure of being in 11 public schools in APS with their various inequities.  When we look at who is going to be at the table we must make sure that we include everyone.  Until we make a difference on behalf of all of APS students we will find ourselves here again in 10 years, in 20 years.
Student:  I am a community member, I am a stakeholder.  I hear a lot of terminology about stakeholders and that is being translated as parents. I want to remind the board and audience that there are stakeholders that are invested in the welfare and education of all children.  I am an NPU education chair.  Although my children are adults, my neighbors still vote for SPLOST and other items.  When you think of stakeholders and you are putting your groups together look beyond the parent groups.  Don't be afraid to bring people to the table.
7:05pm
–Legislative Meeting–
Welcome/Portrait Presentation to New Superintendent
Good evening to everyone here and in our viewing audience. Thank you for joining us for the July 2014 legislative meeting of the Atlanta Board of Education.
Before we discuss the agenda items, I'd like to once again welcome Dr. Carstarphen to Atlanta Public Schools. Today, July 14, 2014, marks her first time participating in a regularly scheduled monthly board meeting.
Therefore, on behalf of the entire Atlanta Board of Education, I'd like to present to Dr. Carstarphen a framed official district portrait to signify her appointment as our new superintendent. Underneath the portrait is an engraved plate with her name – "Dr. Meria J. Carstarphen" – and "2014," the starting year of her tenure with the school system.
To put her tenure in context, Atlanta Public Schools has been in existence for 142 years. Dr. Carstarphen joins us as our 19th superintendent.
Her portrait will join the portraits of our other superintendents on display in the Atlanta Public Schools Archives & Museum – on the crimson-colored wall entitled "A Legacy of Leadership: Chronicle of Atlanta Public Schools Superintendents."
Again, we welcome you, Superintendent Carstarphen, and we look forward to working together to inspire some groundbreaking achievements for the students of Atlanta.
Would my colleagues please join the superintendent and me for a group photo to document this moment?
Remembrance of Jean C. Dodd
At this time, I would like to say a few words about our colleague, Emma J. Callahan Dodd, who's better known to us as Ms. Jean Dodd. Ms. Dodd passed away June 10, 2014. My colleagues and I wish to extend our deepest condolences to her loved ones. Ms. Dodd graduated from APS, taught in APS and served APS as a dedicated board member. Later in this meeting, we will pass a resolution in her honor, but at this time, I ask everyone to join us in a moment of silence to mark Ms. Dodd's public service in education.
Equity Audit Update
Thank you, everyone.
Let me give the public two short updates – the first is about the equity audit, and the second is about the Beltline TAD (or tax allocation district).
Audit Commission Chair Byron Amos recently convened a meeting to be briefed on the recently released districtwide equity audit. Earlier this calendar year, the school system partnered with independent researchers at Georgia State University to assess equity across all APS schools. The equity audit – all 1400 pages of it — is now available online.
The good news is that the equity audit was something district leaders commissioned. The rationale was that we needed reliable, independent data to confirm or contradict that APS is a system where every learner –
no matter his or her classroom, school or neighborhood – is supported by the best educational resources possible and has the greatest opportunities to learn.
The bad news is that the audit has uncovered some disturbing circumstances across our system.
Here's a snapshot of the findings.
Almost double the number of students who are eligible for special education attend our alternative schools rather than our traditional schools.
Districtwide, almost half of our students did not meet proficiency in at least one subject area.
Twice the number of students in the north and east regions are identified as gifted when compared to the south and west regions.
Approximately 20 percent of our schools do NOT have an active parent-teacher association; and for schools that do have a PTA, the level of participation and support varies widely –
–      From only two members to 800 members
–      From financial contributions of $30 to $172,000.
Maya Angelou put it best: "When you know better, you do better." And now we have 1,400 pages of knowledge that we need to analyze further and act on with Superintendent Carstarphen and her team. We'll certainly have ongoing discussions with the community and bring regular updates to the public in the days and weeks ahead.
Superintendent's Remarks:
Good evening. Thank you to Chairman English, Vice Chair Meister and all of the members of the Atlanta Board of Education for your warm welcome. I'm honored to embark on this journey with you to give our children the best they deserve. Our first day of school is Monday, August 4 – only three weeks away – so we're getting right down to the work of teaching and learning.
Prior to my start date on July 7, I worked for several weeks with the board; the former superintendent, Erroll Davis; other staff; and the community on a transition that would allow me to begin covering some of the board priorities outlined during its April 2014 retreat. In particular, we focused on filling principal vacancies. As of today, we've filled all of our open principal positions by hiring 22 principals out of the approximately 80 principal positions in our non-charter schools. For some perspective, approximately 70 percent of our high school principals (12 out of 17) are newly appointed. As part of our transition work, I've been onboarding and sworn in, and the board of education is designing and finalizing the superintendent's evaluation. We've also identified some immediate districtwide and clusterwide areas that need to be addressed – from receiving the equity audit and enhancing our food services to choosing a flexibility option or new operating model for our school district. Earlier today, the board heard a presentation on our flexibility options.
As we wrapped up the transition phase of our efforts and moved to the July 7th entry phase, we started doing more focused work to restructure central office departments, including communications and public engagement; legal; accountability, testing and compliance; human resources; and organizational advancement. In several leadership positions, we announced some new people to the APS team and some familiar faces. We want to make sure that every team and every position in APS serves a sole purpose: to support schools and children.
As part of our entry work, I am working through a 30-60-90-day plan with the entire leadership team to ensure that the big picture and detailed steps are agreed upon and implemented with fidelity. We want to make sure we comprehensively address key areas brought to our attention by board members – areas such as human resources, student achievement, board governance and more. One area that was certainly a board priority is filling teaching vacancies in time for the first day of school. As of today, we've filled more than 560 teaching vacancies out of the nearly 3,200 teaching positions in our district. We filled many vacancies with internal candidates, yet approximately 250 teachers will be brand new to Atlanta Public Schools this year. (Last year, 288 brand new teachers joined the system at the beginning of the school year.) Left to be filled are approximately 60 teaching vacancies, with the largest group of vacancies – about 15 – being in the hard-to-fill area of special education. Our goal is to have all of our teachers hired by July 24 in time for them to attend the New Teacher Orientation.
APS Day One: Highlights for Back to School
As we count down to the new school year, we're certainly working on making sure all of our schools have textbooks, desks and teachers. However, the area that I wanted to highlight this evening is about our attendance campaign. We're excited about a message we want students and families to hear loudly and clearly – Day One: Be There. Again, August 4 is the first day of school in Atlanta Public Schools, and we need every student to be there on the first day and every day after that.
Here's our challenge: Approximately 5,000 students either don't show up or are not in class receiving instruction on the first day of school. Too many of our students are not at school on Day One, or they're in school but sitting in the main office, awaiting their class schedule or still having their paperwork processed. We want the world to know that August 4 is not only the first day of school; it's the first day of instruction. And a day without instruction might as well be a day absent. The fact is absences hurt achievement. One report traces students' struggles to master reading in the third grade all the way back to the days they missed in kindergarten. Another study shows that a student's chances of graduating on time in high school are severely affected by the days missed back in middle school.
We have to break the myth that missing the first day or only a few days of school is normal and doesn't matter much. It does – for the child who loses learning time and for the entire classroom of children who have to wait as their teacher repeats the material.
Therefore, as part of our ramp-up to August 4, we're launching a citywide attendance awareness campaign, called Day One: Be There. We're going to use every neighborhood, partnership and communications channel at our disposal to spread the word about the importance of the first day and every day of school. Let me share three highlights about the attendance campaign:
First, thanks to our partner – 11 Alive – for bringing along Chick-fil-A, Dollar General, the Georgia Aquarium, Macy's, Six Flags and Stone Mountain Park to support our students in this effort. Because of the generosity of these organizations, students who go to school on August 4 will be entered into a drawing to earn a chance to receive an incentive, which may be a coupon, gift card, school supplies or free admission to a popular local attraction.
Second, we are partnering with the Morehouse School of Medicine to host an immunization/school registration event at its Comprehensive Family Healthcare Center on Saturday, July 26 from 9 a.m. to 1 p.m.  Parents will be able to get their children immunized and registered for school. On this same day, I understand that board members will also be promoting Day One: Be There.
Board members, please share your plans with our communications team so that we can help promote everything we as a community are doing to get our children to school on the first day and every day.
Lastly, Friday, August 1, we will hold districtwide registration and open houses at various times at every APS school.
These are just some of the activities taking place for the Day One: Be There campaign. Look to hear more details by watching the news, listening to the robocalls, reading the emails, seeing the yard signs and much, much more. Remember, Day One: Be There.
May everyone enjoy the rest of the summer and prepare for a great school year!
View today's agenda here: http://www.boarddocs.com/ga/aps/Board.nsf/Public
Watch the Board of Education meeting here:  https://new.livestream.com/accounts/7427971